Pretposljednje izdanje Kreativnog glazbenog kolektiva u četvrtak, 5. prosinca u Sax donosi kantautorsku večer uz Ninu Bajsić, Šveđanku Mirandu Murre Eriksson te Josipa Radića (Kensington Lima). Tom prigodom razgovarali smo s mladom kantautoricom Mirandom, koja nam po prvi puta stiže iz Švedske.
Miranda Murre Eriksson je kantautorica koja stiže iz južne Švedske, točnije iz grada Västervika. U svojim pjesmama pjeva o svakodnevnim situacijama i životnim poteškoćama, a bitno je istaknuti da pjeva na švedskom jeziku. Ovo će joj biti prvi nastup u Hrvatskoj, a u Zagreb dolazi u sklopu razmjene bendova sa švedskom udrugom Studiefrämjandet.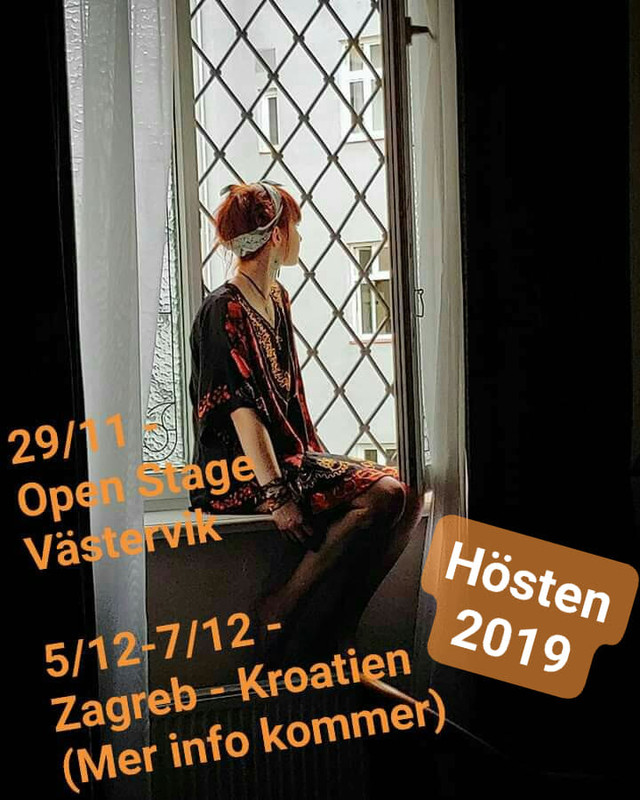 Hi Miranda! I'm currently listening to your music for the first time and I can say that I'm really surprised, in a good way ofc. When did you first pick up your guitar and decided that you're gonna be a musician and songwriter? Who inspired you to make music?
Hi, and thank you! I got my first guitar when I was 8 years old but i written my first song as 6 years old. I were just a few months old when my mom and dad took me and my brother with them to a lots of festivals every summer. I think it started there.
Also, by listening to your music I ran into other swedish artists and I can say that I like it. Can you recomend us some swedish musicians that are your favorite or tell us some other that you admire?
The first artist who I have followed through on his music career is Dan Viktor. I saw him when I were 5 years old and still listen to him. I can also recommend you to listen to Stefan Sundström who is a fantastic artist, grow tomatoes, write books and fighting for the climate. Most of the songs and artists I listen to has the focus at the lyrics. It important that the song has something to say.
If you could go open a show for any artist who would it be?
I think it will be Stefan Sundström then actually.
How come that all your music is on your native language – swedish? Don't you think that it would be better to sing in english? For example, when I look at our croatian music scene I can see that a lot of new musicians create their songs in english because they want for everyone to be able to understand them and, furthermore, that "language preasure" is imposed on music by music industry and it seems that you can't make some success without it. So, why choose a harder way?
I see no obstacles in reaching out to people who do not understand. It is very much about how you perform your songs and if maybe you have a middle talk in, for example, English.
Even I don't understand what you're singing about I can tell that behind every songs there is a story. Tell us something more about that, about your songs and music. What is your creative process like? What inspires you the most and how would you describe the music that you typically create?
My songs are very much about the things I want to find out. How difficult a relationship can be or how difficult it is to just be happy, how hard it is to miss someone but also those feelings when you are actually happy and in love and it feels good.
I've noticed that you sometimes play with your fingers and sometimes with a pick. Which of this two ways do you prefer and why?
Actually, I only play with my fingers and nails. I've never learned to appreciate to play with a pick, but my nails would probably be happy if I started play with it.
You sing, you play a guitar but you also whistle and even play harmonica. That combination sounds just amazing and harmonica fits perfect in your songs. Is it difficult to combine all that at the same time?
Boring answer, but it's all about practicing and practicing and practicing. And a lot of focus when you practice.
While I was looking at your music background I came upon a lot of live videos on YouTube, some of them 7 or 8 years ago, but no album or official single even though you're playing for almost a decade. How come that you still don't have an album?
This year I have been working as a musician for 10 years actually. I recorded a single with two songs in Prague for a few years ago who I sold at my concerts but now they are sold out. I will start recording my first album now on December 27 with more musicians and instrument. The album will be pressed on vinyl and released digitally. And will hopefully be released summer 2020.
 In last question I've mentioned that we can find a lot of your live performanses. So, tell us where have you all performed? What are your favourite and least favourite venues?
My favorite gigs are at festivals and for an audience who listens carefully. I don't like to play when no one listens or as a mingle musician.
Tomorrow you're be performing in Zagreb in Sax. You're coming here as part of some excange program if I understood good. Tell us more about that and what are your exprectations?
I was surprised and very happy that I got the chance to play in Zagreb. I had completely forgotten that my performance in the "Livekarusellen" tour was recorded.
I both believe and hope that there will be two fun and educational gigs here Zagreb and that I get to know some new nice people to talk music and keep in touch with.
My last question for you would be what's next for you and do you have any upcoming shows?
When I come home to Sweden again I will plan for the recording process and book the spring and summer gigs. In January, I will possibly play in Lund at a singing and songwriter festival. Many fun things will happen this spring, I look forward to it!